Data management and protection laws are critical for any nation to thrive in today's highly digitized world.
These laws are necessary to safeguard both corporations and individuals from data breaches and identity theft. Recognizing this need, the Federal Government of Nigeria established the National Commissioner of Nigeria Data Protection Commission (NDPC).
The Nigeria Data Protection Act 2023, signed into Law by His Excellency, President Bola Ahmed Tinubu GCFR on June 12, 2023, effectively positions Nigeria to take its pride of place in the comity of nations in the very important aspect of data protection and data privacy. Section 7 of the Nigeria Data Protection Act 2023 makes the Commission independent.
NDPC is committed to making data privacy a cornerstone of a sustainable digital economy in Nigeria and to ensuring compliance with global best practices in data protection and management among organizations in Nigeria.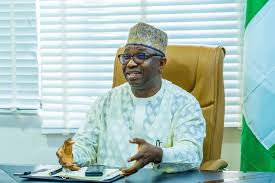 Dr. Vincent Olatunji, the National Commissioner of Nigeria Data Protection Commission (NDPC), spoke to a select group of media personalities recently and emphasized the agency's commitment to enforcing stringent requirements for data protection in Nigeria.
According to Dr. Olatunji, "The Commission is committed to promoting a culture of data privacy and data protection, and to ensure that Nigerian private and public organisations align with national laws and acts concerning data protection."
He added, "We are fully aware of this responsibility and will not hesitate to penalize any organization that fails to comply with these laws. We aim to create a safe environment for organizations and instil confidence in data subjects conducting business in Nigeria."
As a way of building this culture, NDPC has sealed a partnership with the National Orientation Agency (NOA) to have a wide spread across the country. The partnership will also help in awareness creation. NDPC will continue to create awareness so every Nigerian, including data controllers and processors, will know their rights and obligations.
The National Commissioner revealed that the signing of the Nigeria Data Protection Act, 2023 has improved Nigeria's global data privacy ranking and attracted investors. The data protection law is today seen as a global benchmark as it is based on the General Data Protection Regulation (GDPR)
Addressing the funding of the new agency, Dr. Vincent clarified, "We are a non-profit agency, currently receiving funding from the presidency for the initial two years. After that, we will gradually become self-sustaining. While penalties will contribute to our funding, our primary focus is ensuring organizations adhere to global best practices in data protection rather than generating profits."
Regarding the recent announcement by the Central Bank of Nigeria (CBN) on Nigerians submitting their social media handles, Dr. Vincent disagrees with CBN, and expressed that this requirement is improper and imposes an undue burden on data subjects. He assured that the NDPC is actively working with the Central Bank to find a lasting solution to this issue.
On data protection compliance in the public sector, NDPC boss says that it is hovering around 49 percent, and added said that it will now hold chief executives of government Ministries, Agencies, and Departments (MDAs) responsible for any data breach that occurs under their watch. He further stated that over 160 Data Protection Compliance Organisations (DPCO)s are licensed and rendering almost 17 services in Nigeria.