According to Mark Zuckerberg, CEO of Meta, 30 million people have already downloaded the company's brand-new Threads app.
He marketed the application as a "friendly" rival to Twitter, which Elon Musk acquired in October.
According to experts, Twitter users dissatisfied with recent platform changes may flock to Threads.
Although Twitter is "often imitated," according to CEO Linda Yaccarino, its community "can never be duplicated."
Users can post up to 500 characters on Threads, which also offers numerous features that are comparable to those on Twitter.
Earlier, Mr. Zuckerberg stated that the success of the platform ultimately depends on how "friendly" it can be.
Mr. Musk countered, though, saying: "It is infinitely preferable to be attacked by strangers on Twitter, than to indulge in the false happiness of hide-the-pain Instagram."
Mr. Zuckerberg responded to a question on Threads about whether the platform will be "larger than Twitter" by saying, "I think there should be a public discussions app with 1 billion+ people on it.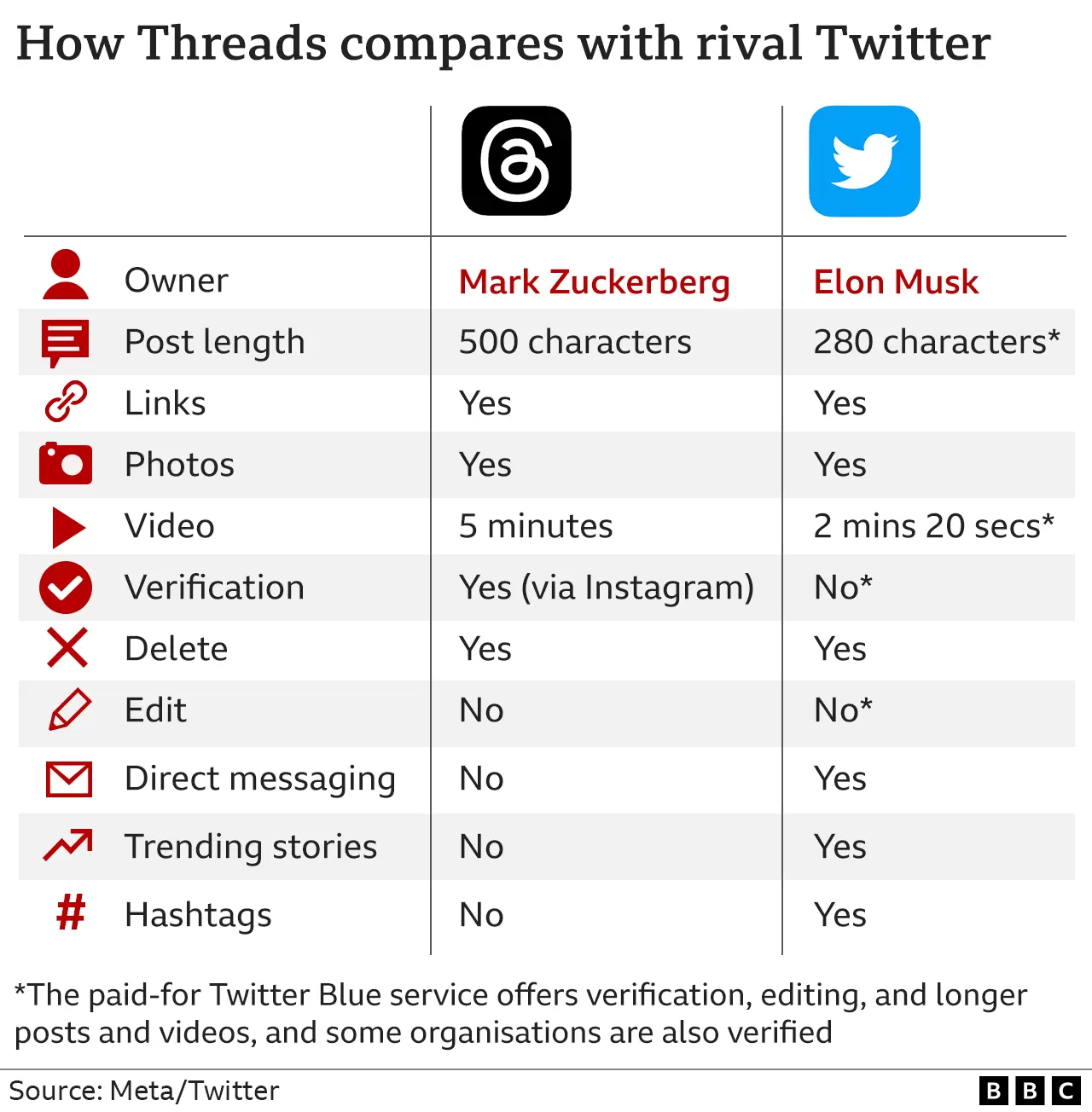 Twitter has had the chance to achieve this, but it hasn't succeeded. I think we will.
Online reaction to the introduction has been positive, with one user telling the BBC that Threads is a "much-needed competitor" to Twitter.
The potential data use of the app has drawn criticism from rivals. According to the Apple App Store, this might include browsing, health, and financial information connected to users' identities.
Concerns about the inability to deactivate your Threads profile without simultaneously deleting the related Instagram profile have been raised by some users. According to Meta, you currently cannot deactivate your Threads profile without also terminating your Instagram account. We are attempting to resolve this. You can deactivate your Threads profile whenever you like in the interim.
"Your Instagram account will not be deleted if you deactivate your Threads profile."
Your Threads profile, posts, and interactions with other users' posts won't be available after deactivation, the company added.
According to Meta, users can access their Instagram settings to download and remove their Threads data.
Over a hundred nations, including the UK, now provide Threads for download, although the EU has not yet done so because to regulatory issues.